The Hydration Foundation's first WATER SCIENCE AWARD 2020 will go to Dr. Gerald H. Pollack, University of Washington, known for his cutting edge research on the limitless possibilities of water.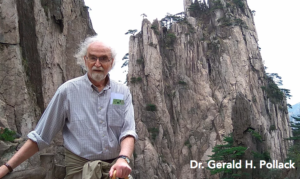 Dr. Gerald Pollack is a rare scientist who still lives for the thrill of the unknown and continues to measure science by all that he does not yet know, which delights him.
His breakthrough research at the Pollack Lab has opened new horizons in the discovery of water knowledge and ignited research among scientists in related disciplines.
Though regarded as one the world's foremost water scientists and a much sought after speaker around the globe, Dr. Pollack's approach to his work is elevated by his humility. An interaction with him is marked as much by his expertise as it is by his curiosity about what you know.  This characteristic is responsible for his wide influence across many disciplines.  A thoughtful comment from Jerry has opened new directions in research for more than one colleague or student.
Of course, for his own work, he has received numerous honors including: the Prigogine Medal for Thermodynamics; the University of Washington Annual Faculty Lecturer; the NIH Director's Transformative Research Award; and the 1st Emoto Peace Prize, along with awards for his books, two TEDxtalks and a recent designation as a Living Laureate of Agriculture by France's Agriculture du Vivant.
The Hydration Foundation award specifically acknowledges his lifetime body of work and  the strategic openings he has created for his colleagues and the next generation of thinkers.
HOW POLLACK HAS ADVANCED WATER SCIENCE:
Through his role as founder and editor-in-chief of  WATER: A Multidisciplinary Research Journal, Dr. Pollack has created an open access, interdisciplinary research site on water where truly new work can be found.
Through his role as founder of the Annual Conference on the Physics, Chemistry, and Biology of Water, he has drawn together colleagues from all across the globe for open thinking and  open discussions of the most interesting intersections on water investigation. These conferences have recovered a lineage of inquiry on water that reaches back over 100 years. This water conference, now going into its 14th year, has built up, over time, scientific evidence for a broad new understanding of water that extends far beyond the simple paradigm, still taught, that there are only 3 states of water, vapor, liquid, ice.  We know so much more now, thanks to presentations at this conference, and still more to come.
Through his role as Executive Director of the Institute for Venture Science, Dr. Pollack has developed a way for finding and funding the next breakthroughs in science.  Truly, his eyes are looking far and forward.  The Hydration Foundation is pleased and honored to recognize Dr. Gerald Pollack with 2020 Water Science Award.